Black Children CEOs
To be honest, I did not think I would find five, but I found 9  Black Children CEOs. I am sure there are more but for this post, I am limiting my search to these young people.
Some of their stories are long and it would be too much for any single article. So, here is what I looked for before you get to the post. In the USA a child cannot own a company. Their parents or Garden has to own it with them. That is what makes it hard to find them. But trust me there are a bunch I did not list due to time.
Criteria:
You had to be Black (African American, Carribean, or African)

You had to have made a splash or basically gotten noticed in some way.
These two criterion has allowed me to hone in on just a few of the Black Children CEOs.
First up Asia Newson, "Super Business Girl"

Super Business Girl
Known as Detroit's youngest entrepreneur, Asia Newson began selling candles with her Dad at the age of five. She came up with the perfect sales pitch as "Super Business Girl" and since then, she's trained over 100 youth entrepreneurs. She's still selling candles, but it's the mission of her company, "To recognize the true potential in every child and to make optimum use of their individualized talent," that's really caught the country's eye. She has spoken with local city council members, attended the Detroit mayoral debate, advocated for youth and adequate education, and has appeared on The Ellen Show, NPR and in Vogue, among other media outlets.
Community involvement is also part of the package—each time Asia sells candles, a portion of the proceeds are donated to the homeless. She's also brought school supplies and toiletries to her school and has given away over 150 coats to children in her neighborhood. When Asia isn't busy being an entrepreneur, activist, and philanthropist she enjoys dancing, performing and hanging out with her friends.
Find out more about Asia: superbusinessgirl.com
*********************************
The next one is "Mr. Cory". Remember these are Black Children CEOs.

Mr. Corys Cookies
Cory Nieves also known as "Mr. Cory" always dreamed of making the world better for everyone he knows. That passion, combined with a love of treats and an entrepreneurial spirit, led him to be the owner of Mr. Cory's Cookies at just six-years-old. In 2010, Mr. Cory told his mother, Lisa, he was tired of taking the bus to school and he wanted to buy a car. He crafted the idea to sell hot cocoa to raise the funds in his local town of Englewood, New Jersey.
After realizing his dedication to his new "business," Lisa encouraged him to continue selling hot cocoa to save money for college. Not only did Mr. Cory keep at it, but he began selling lemonade and cookies to expand options for his loyal customers. Mr. Cory and Lisa spent months learning how to bake, testing original cookie recipes. One day, they taste-tested a cookie and had a "voila!" moment–the perfect chocolate chip cookie that was all-natural and made from high-quality, organic ingredients. Since the launch of the chocolate chip cookie, Mr. Cory has expanded his line to include seven more all-natural flavors for his health-conscious customers: Double Dark, Healthy Melty, Lemon, Madagascar, Oatmeal Raisin, Sugar and White Chocolate Chip cookies.
When he's not selling cookies, Mr. Cory enjoys playing golf, spending time with his cat, learning about different people and cultures, watching business videos to learn tips to grow his brand and reading. Mr. Cory's favorite books are Oliver Twist by Charles Dickens and Heroes of Olympus by Rick Riordan. Mr. Cory's Cookies has gone on to generate tremendous media attention in local, regional, national and international news outlets. The brand has been featured in ABC News, CBS This Morning, Good Morning America, The TODAY Show, The Oprah Magazine and more outlets, who can't get enough of Mr. Cory and his all-natural, delicious cookies!
Find out more about Cory: mrcoryscookies.com
**************************
This is DJs Amira and Kayla are Black Children CEOs,

Little Club Heads
Since taking over the turntables at Little Club Heads last year, which was started by their Grammy-nominated producer (and former club head) dad Elijah, 10-year old twin sisters Amira and Kayla have set the kiddie club scene on fire. While their fanbase is kiddos ages four- to nine-year-olds, they've also deejayed on the daytime talk show The Real, at New York Knicks Games in Madison Square Garden, for private parties at Jay-Z's 40/40 Club, and at Kids Rock! New York Fashion Week, among many other awesome events. The sisters have hopes of spinning tunes all over the world (opening up for Beyonce and Rihanna is on the bucket list!) and enjoy inspiring kids to pursue their own passions. While in hot demand all over New York City, they still study hard, are on the honor roll, love Filipino food and art. Party on!
Check out our insider's guide to Little Club Heads here.
Find out more: djamiraandkayla.com
**************************
The famous Miss Mikaila,

Me and the Bees
This isn't your average lemonade stand. At the tender age of four, Mikaila is our next Black Child CEO. I am the Bees founder Mikaila was encouraged to make a product for the Acton Children's Business Fair and Austin Lemonade Day. After being stung by two different bees and receiving a very special '40s era cookbook from her great-grandma Helen, Mikaila had a lightbulb moment. She discovered how important bees are to our ecosystem, and she found Grandma Helen's recipe for flaxseed lemonade. Sweetened with local honey and full of healthy benefits, Mikaila's product (which comes in flavors from original mint to iced tea and prickly pear) has been buzzing off shelves everywhere, from organic food leader Whole Foods to local food trucks and co-ops.
I and the Bees are also about conservation. Each time you buy a bottle, proceeds are donated to efforts to save the bees; donation recipients include Heifer International, Texas Beekeeper Association and the Sustainable Food Center of Austin. Mikaila was featured on Shark Tank (and received an investment), has been named a 2016 National Park Service Youth Ambassador and was invited to the 2016 White House Easter Egg Roll (we hear POTUS is a fan!).
Find out more about Mikaila: meandthebees.com
************************
*****************************

Black Children CEOs; Sisters Sell Spa-Themed Products for Girls
Halle Holmes was 10 years old in 2010 when she came home empty-handed and aggravated after a trip to the local mall. As hostess of an upcoming spa party, she had her heart set on finding all-natural beauty products in fun fragrances that her girlfriends would like and her sensitive skin could tolerate.
"We didn't want to smell like lavender and sweet pea. We wanted something youthful smelling," she says. Downright indignant that no such product existed, Halle says she turned to her teenage sister Brea and said, "Why don't we start our own?"
As the saying goes, necessity is the mother of invention. The Holmes sisters began researching their idea online, tapped their family dermatologist for advice, and sent their mom out to investigate a few cosmetics manufacturers they identified.
With $6,000 in startup funding from their parents, Halle and Brea officially launched their beauty products business the same year. Named Sweet Dream Girlz for a favorite Beyonce song, the Holmes' line of moisturizers, cleansers, lip balms, and hair products are paraben- and talc-free, feature shea butter and natural oils, and come in "yummy" scents like Pink Sugar and Iced Lemon Cookie. From sales online, at trade shows, and in specialty stores nationwide, the business generated more than $25,000 in revenues it's first year, and $42,000 in 2012. According to mom Lisa Holmes, Sweet Dream Girlz is profitable, but all income goes right back into the company to support marketing and new product development.
The young entrepreneurs—now 13 and 19—have been featured in USA Today, Tigerbeat, local television news, and various other media. They were invited to the 2012 Nickelodeon Kids Choice Awards where their products were featured in the swag bags. And they've made it to the final casting call for season 5 of ABC's Shark Tank.
Halle Holmes in Sweet Dreams Girlz apparelDespite all the exposure, however, buyers at major stores including Dillard's, Nordstrom, and Justice have turned them down. So have big beauty brands Ulta and Avon. "The typical response is that they haven't carried it before, they're skeptical they can move it in their stores, and they want you to come to them with big sales volume numbers before they'll try," says Lisa Holmes.
But the sisters are confident those buyers are missing out on a big market. Tween and teen girls are consumers of spa and beauty products, they say. The only reason they don't buy products specially made for them is that they're not available, they say.
So, they figured out how to reach that market themselves. This week they introduced Spa Diva, a network-marketing program that sells a $350 "mobile spa kit" to their business-minded peers. Girls as young as 16 can purchase the kit and earn commissions hosting in-home mani-pedi parties and taking orders for Sweet Dream Girlz products from their friends. The kit includes manicure, pedicure, and facial supplies, party-hostess advice, and a "business resource CD," that tells how to make a professional presentation, talk about the products and engage with customers.
Brea, who was in high school when Sweet Dreams Girlz launched, will start her sophomore year at Woodbury University in Burbank, Calif., this fall. In addition to her studies in fashion design and marketing, she dedicates about four hours a day to the business, including video-chat meetings with her sister at home in Phoenix.
What's next? The girls have already expanded their brand to tackle another shopping frustration: Why aren't sweet, fun fashions like the ones Taylor Swift and Victoria Justice wear available in girls' sizes 7-16? They designed and are now wholesaling a line of Sweet Dream Girlz apparel, sneakers, and accessories. They hired a sales rep with a showroom in the Atlanta apparel mart to raise awareness of their brand, and, says Halle, "We just finished the photo shoot for our spring 2014 line."
*************************
Zandra is another one of our Black Children CEOs that actually introduces herself. So, it's hard to make a comment because she does it all. LOL!  Zandra is an Author, Speaker, and believe it or not a Philanthropist.
Oh, you have got to check out her blog to gain a good understanding of this little mogul.
**********************
SHE WORKS: 12-Year-Old CEO's Guide To Hiring, Firing & Being A Beauty Professional
Name: Jamila Thompson
Title: CEO of Rub A Dub Spa Parties For Kids, Inc.
Education: 7th Grade
Previous Job Experience: Being an awesome kid with amazing ideas. Author of "You Work It Girl: A Tween's Guide to Beauty, Fashion, and Other Cool Stuff."
HelloBeautiful: Briefly describe your day to day activities and responsibilities as CEO of Rub A Dub Spa Parties For Kids, Inc.
Jamila Thompson: As the founder of Rub A Dub Spa Parties for Kids Inc., other kids and their mothers feel inspired by me. They have never seen or heard of a CEO being a child, but it's actually a great feeling when girls say they are inspired.
HB: Briefly describe what prompted your interest in the beauty world.
JT: When I was seven years old, I had gone to a spa party. It was really fun. When I got home, I told my mom that I wanted a spa party for my birthday. It was a great party! There were 22 girls. They got facials, manicures, pedicures, massages, make-up and we had a run-way diva fashion show. That was the best. I then told my mom that I wish we could do spa parties for girls all of the time. She liked the idea and I even came up with the name. From then on, we've been doing spa parties for girls ages 5 to 16 years old. My mom takes care of the booking and I do the pampering, along with another girl we hired. I have only had to fire one girl for not respecting me as her boss. She felt I was just too young, but my mom always tells me to never let my age slow me down for what I want to accomplish in life.
HB: What suggestions regarding networking would you give to those seeking to work in this particular field?
JT's Mother: Don't be afraid to talk and network with others in the same line of business. Sometimes women think we always have to make it about a competition.
HB: What are the major challenges in your role as a business owner in the beauty industry and what solutions have you deemed best to handle these challenges?
JT's Mother: Getting people to know we exist is always a challenge, but there is nothing like word of mouth. We strive to be the best, and that, in turn, is what makes people want to tell others about us.
HB: What would you contribute your level of success to?
JT's Mother: Faith, perseverance, and endurance. In the beginning, when business was slow, I thought about closing up, but it was faith that kept me believing that eventually, this business would turn around. Now we have a waiting list!
HB: Any advice for young girls who want to be like you?
JT: Just like I say in my book, "You Work It GIrl: A Tween's Guide to Beauty, Fashion, and Other Cool Stuff," girls should begin thinking about their future now. Don't put limits on yourself.
******************************
Biz Kids: Bronx Twins Are Emerging Moguls To Watch
A pair of prodigal twins in The Bronx are getting their peers excited about their kid-themed spring water. They're still in grade school,. but already, these young executives are on their way to the top. We'll drink to that!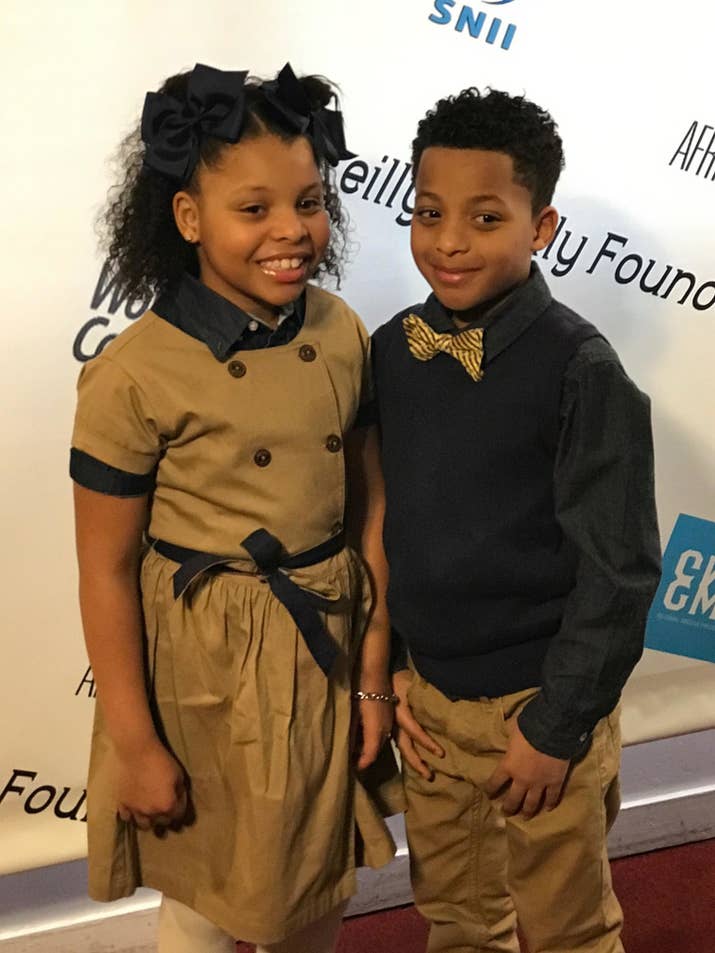 Meet 8-year-old Brazil Dowe, and her twin brother, Princeton. They're the adorable co-CEOs of Water 2 Kids, a new brand of bottled spring water they created just for their peers, to provide a healthy alternative to the sugary juices and sodas that are a staple of childhood life. The company, which operates with guidance from the twins' parents, is all about helping kids make informed decisions about their own health.
**************************
Are You A Business Owner?
Are you African American, Carribean, or African? Do you own a physical "Brick & Morter" Business? Maybe you own an online business?
I want to know about your business and I want to feature it on my blog, so, tell me a little bit about you and I'll reach out soon.